Markets Brace For Monetary Policy And Inflation Updates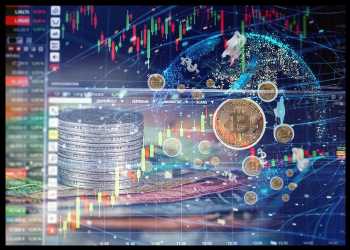 The likely course of the ECB's monetary policy and the current state of inflationary pressures in the U.S. economy remained the focus of investor speculation and market sentiment globally. ECB policy would be known later in the day whereas inflation readings from the U.S. are due on Friday.
Asian markets finished mostly lower. European equity markets are also trading lower. Wall Street Futures are however trading in positive territory. The Dollar Index edged down. Bond yields moved mixed. Crude Oil prices decreased mildly as China's Covid lockdowns pressured hopes of revival in oil demand. Gold edged down ahead of the twin macro-economic updates. Cryptocurrencies extended gains.
Here is a snapshot of the world markets at this hour across stocks, currencies, bonds, commodities and cryptocurrencies.
Stock Indexes:
DJIA (US30) at 32,986.40, up 0.23%
S&P 500 (US500) at 4,127.30, up 0.28%
Germany's DAX at 14,347.47, down 0.68%
U.K.'s FTSE 100 at 7,561.39, down 0.42%
France's CAC 40 at 6,424.93, down 0.37%
Euro Stoxx 50 at 3,770.55, down 0.49%
Japan's Nikkei 225 at 28,246.53, up 0.04%
Australia's S&P ASX 200 at 7,019.70, down 1.42%
China's Shanghai Composite at 3,238.95, down 0.76%
Hong Kong's Hang Seng at 21,869.05, down 0.66%
Currencies:
EURUSD at 1.0717, up 0.03%
GBPUSD at 1.2521, down 0.15%
USDJPY at 133.58, down 0.49%
AUDUSD at 0.7186, down 0.08%
USDCAD at 1.2561, up 0.04%
Dollar Index at 102.49, down 0.05%
Ten-Year Govt Bond Yields:
U.S. at 3.022%, down 0.25%
Germany at 1.3585%, up 0.70%
France at 1.874%, up 0.16%
U.K. at 2.2755%, up 1.27%
Japan at 0.246%, down 1.41%
Commodities:
Crude Oil WTI Futures (Jul) at $121.92, down 0.16%
Brent Oil Futures (Aug) at $123.47, down 0.09%
Gold Futures (Aug) at $1,850.80, down 0.31%
Cryptocurrencies:
Bitcoin at $30,502.63, up 0.22%
Ethereum at $1,820.55, up 1.10%
BNB at $292.01, up 0.14%
Cardano at $0.65, up 2.55%
XRP at $0.4033, up 0.93%
Source: Read Full Article