Cryptos Nervous Amidst ECB Review, Banking Crisis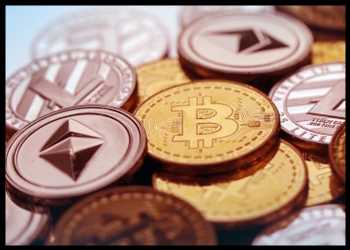 Cryptocurrencies are trading almost 1.5 percent lower in the past 24 hours amidst anxiety ahead of the interest rate review by the European Central Bank. Cryptocurrencies had traded in the green zone earlier in the day as panic over bank crisis contagion subsided following the massive lifeline from the Swiss National Bank to the beleaguered Credit Suisse.
Markets are eagerly awaiting the ECB's interest rate decision to assess whether inflation combat would take precedence over financial stability. Amidst persistent inflation, and recent hawkish rhetoric, the ECB was widely expected to raise interest rates by 0.50 percent, till the banking crisis a week ago called into question the efficacy of unbridled monetary tightening.
Treasury Secretary Janet Yellen's prepared remarks for the Senate Committee on Thursday had helped soothe concerns over the banking crisis and contagion. The U.S. banking system remains sound and Americans can feel confident that their deposits will be there when needed, the U.S. treasury Secretary Janet Yellen would be telling the Senate Finance Committee on Thursday, according to a Reuters Report.
Shares of Credit Suisse (CS) are almost 6 percent higher in pre-market trading in NYSE versus a decline of 14 percent on Wednesday.
The Dollar retreated against the basket of 6 currencies, reflecting in the Dollar Index dropping more than 0.14 percent overnight to 104.50.
Overall crypto market capitalization is currently at $1.08 trillion, from $1.09 trillion a day earlier.
Bitcoin dropped 0.5 percent overnight and the current trading price is $24,795.05. Despite the overnight loss, the leading cryptocurrency has gained 14 percent in the past week and 50 percent on a year-to-date basis.
Ether however has shed 1.6 percent overnight and its weekly gains of 8 percent and year-to-date gains of 38 percent rank below that of Bitcoin.
Meanwhile the Shapella upgrade which combines the Shanghai and Capella upgrades, has been completed on Goerli, Ethereum's largest public testnet and brings the withdrawal of staked Ethereum closer to reality. Withdrawal of staked Ethereum would be possible with the Shanghai upgrade which is expected to commence on the mainnet next month.
Decentralized liquid staking provider Lido Finance has said that it would allow the withdrawal of staked Ethereum on the Ethereum mainnet only by mid-May. The delay is attributed to pending audits. Lido however has said that a 4-week stETH withdrawal test on Goerli would commence from March 20.
BTC's dominance stood at 44.54 percent, versus 44.24 percent a day earlier. Ethereum now commands a market share of 18.83 percent versus 18.96 percent a day earlier.
For More Cryptocurrency News, visit rttnews.com
Source: Read Full Article