Crypto's Digest Silvergate Developments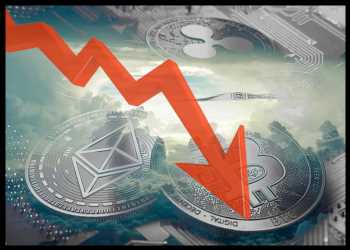 Cryptocurrencies plunged around 3.5 percent in the past 24 hours as bad news from crypto-friendly Silvergate Bank overwhelmed crypto sphere. The cryptocurrency-focused bank's warning that it was reviewing its ability to continue as a going concern has sent shock waves across the industry.
Silvergate Capital Corporation, in its recent filing with the SEC had submitted that it would not be able to file with the SEC, its Annual Report for fiscal 2022 within the prescribed time period. It also disclosed that a number of circumstances have occurred which would negatively impact the timing and the unaudited results previously reported.
The company further stated that additional losses would negatively impact the regulatory capital ratios of the company and its wholly owned subsidiary, Silvergate Bank, and could result in the company and the Bank being less than well-capitalized. The company's unaudited results had shown a net loss of $948.7 million for the year ended December 31, 2022, compared to a net income of $75.5 million in 2021.
The Silvergate filing inter alia cites factors ranging from the viability of the company's digital asset focused business amidst the substantial volatility in the digital asset industry; heightened regulatory scrutiny of banks that serve the digital asset industry; safety and soundness concerns expressed by the federal banking agencies regarding banking institutions with business models concentrated in digital asset related activities; ability to retain digital asset customers and related low cost deposits; risks and uncertainties resulting from litigations/ congressional inquiries/ investigations from banking regulators / U.S. Department of Justice etc as important factors that could affect the company's results.
Viability concerns emanating from Silvergate, considered as banker to the crypto world has triggered alarms outside the digital asset world also. JPMorgan has downgraded the bank's stocks from neutral to underweight. Many cryptocurrency entities have also reportedly severed ties with the bank.
Overall crypto market capitalization dropped to $1.03 trillion, from $1.06 trillion, a day earlier.
Bitcoin dropped more than 4 percent in the past 24 hours and 6 percent in the past week and is trading at $22,379.88, after touching a 24-hour low of $22,241.78 earlier in the trade.
Ethereum too has shed more than 4 percent in the past 24 hours. At its current price of $1,568.93, the leading alternate coin has lost 4 percent on a weekly basis. The decline comes also amidst reports that Ethereum's much-anticipated Shanghai hard fork has been delayed by around two weeks.
88th ranked ssv.network (SSV) withstood the turbulence to gain close to 12 percent in the past 24 hours. SSV has gained 14 percent in the past week and 340 percent on a year-to-date basis.
95th ranked dYdX (DYDX), 83rd ranked Conflux (CFX), 99th ranked NEM (XEM), 55th ranked Terra Classic (LUNC) and 79th ranked Singularity NET (AGIX) have all declined more than 10 percent in the past 24 hours.
Blockchain-based metaverse giant The Sandbox on Thursday reported an incident of security breach and issued an advisory on guarding against potential phishing attacks. 53rd ranked crypto token The Sandbox (SAND) has shed close to 7 percent in the past 24 hours.
79th ranked SingularityNET (AGIX) continues to be the top gainer among the top 100 cryptocurrencies in 2023 with a surge of more than 870 percent.
Five cryptocurrencies are trading with losses on a year-to-date basis. Trust Wallet Token (TWT) tops the list with a 12.7-percent decline, followed by 67th ranked Bitcoin SV (BSV) which has shed more than 6 percent in 2023. 22nd ranked UNUS SED LEO (LEO), 61st ranked Huobi Token (HT) and 26th ranked Monero (XMR) are the other laggards.
For More Cryptocurrency News, visit rttnews.com
Source: Read Full Article