Crypto Rally Unabated Amidst Inline Inflation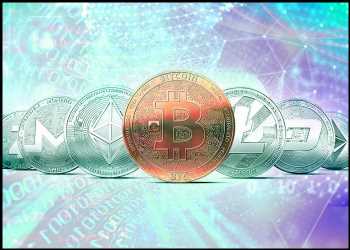 Cryptos extended gains, rising close to 12 percent overnight amidst the latest CPI readings from the U.S. that conformed to expectations. As expected, annual CPI dropped to 6 percent in February from 6.4 percent in the previous month. Core inflation also dropped as expected to 5.5 percent, from 5.6 percent in January.
With no negative surprises on the inflation front and the banking sector woes still not yet fully resolved, markets expect the Fed to pause on its rate hikes to take stock of the situation.
Overall crypto market capitalization is currently at $1.14 trillion versus $1.02 trillion a day earlier. The rally in crypto markets contrasts sharply with the more than 1 percent dip in crude oil prices, the more than half percent drop in gold prices as well as the decline in several stock market benchmarks.
Bitcoin (BTC) gained 14.7 percent in the past 24 hours and is currently trading at $25,858.17, after touching a 9-month high of $26,514.72. BTC has gained 15.5 percent in the past week and 57 percent in 2023. More than 71 percent of BTC holders are in the money at current prices.
Ethereum (ETH) too rallied 8.4 percent overnight to trade at $1,737.31 after touching a high of $1,773.92 earlier in the trade. Ether has gained 11 percent in the past week and 46 percent in 2023. More than 64 percent of Ethereum holders are in the money at current prices.
Bitcoin ranks 11th among all assets as per companiesmarketcap.com. Ethereum has moved to the 51st position in the same ranking.
The crypto asset class has also maintained the seventh rank in the ranking of all assets published by companiesmarketcap.com. Only precious metals viz Gold (market cap: $12.6 trillion) and Silver (market cap: $1.2 trillion) as well as four corporates viz Apple (market cap: $2.42 trillion), Microsoft (market cap: $1.92 trillion) Saudi Aramco (market cap: $1.91 trillion), and Alphabet (market cap: $1.21 trillion) command market capitalization higher than the overall crypto market capitalization of $1.14 trillion.
The brilliant rally over the past few days has helped Bitcoin rise to a market dominance of 44.6 percent. Ethereum meanwhile commands a crypto market share of 18.9 percent. Stablecoins constitute 12 percent of the crypto market whereas the residual altcoins command 24.5 percent of the crypto market.
61st ranked Conflux (CFX) topped overnight gains with a 55 percent rally. The crypto coin tagged to the Payments, Research and Web 3 industries is also the best performer in 2023 with a 1276 percent year-to-date rally.
22nd ranked UNUS SED LEO (LEO) declined more than 2 percent and is the greatest laggard among the top 100 cryptocurrencies in the past 24 hours.
72nd ranked Huobi Token (HT) which has shed 19 percent in 2023 is the biggest laggard on a year-to-date basis.
It has emerged that the IMF had in a note titled Macro Implications of Crypto Assets shared with the G20 nations in mid-February warned about the macro financial implications of crypto assets. The paper which was made public on Monday noted that a widespread proliferation of crypto assets would come with substantial risks to the effectiveness of monetary policy, exchange rate management, and capital flow management measures, as well as to fiscal sustainability. It suggested that changes may be required to central bank reserve holdings, and the global financial safety net, yielding potential instability. It had also warned that banks may lose deposits and have to curtail lending.
For More Cryptocurrency News, visit rttnews.com
Source: Read Full Article