World Market Trends At This Hour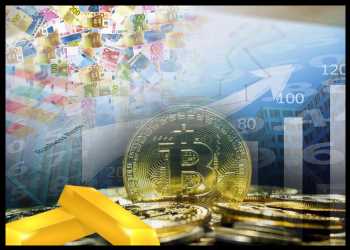 World market sentiment continues to be driven by hopes of a softening in the Fed's monetary policy stance given the expectations that the consumer price inflation in the U.S. would have cooled to 8.1 percent, from 8.5 percent in the previous month. The readings are expected in a few hours.
Asian stocks finished mostly with gains. European stocks are trading in the green zone. Wall Street Futures are also trading in positive territory.
The Dollar Index retreated. Bond yields mostly hardened. Crude oil prices continued to rise as supply concerns ahead of the winter season, dominated market sentiment. Gold continued to slide. Cryptocurrencies declined.
Here is a snapshot of the world markets at this hour across stocks, currencies, bonds, commodities and cryptocurrencies.
Stock Indexes:
DJIA (US30) at 32,510.80, up 0.40%
S&P 500 (US500) at 4,127.30, up 0.41%
Germany's DAX at 13,435.64, up 0.25%
U.K.'s FTSE 100 at 7,483.25, up 0.14%
France's CAC 40 at 6,352.96, up 0.31%
Euro Stoxx 50 at 3,655.45, up 0.25%
Japan's Nikkei 225 at 28,614.63, up 0.25%
Australia's S&P ASX 200 at 7,009.70, up 0.65%
China's Shanghai Composite at 3,263.80, up 0.05%
Hong Kong's Hang Seng at 19,326.86, down 0.18%
Currencies:
EURUSD at 1.0163, up 0.43%
GBPUSD at 1.1709, up 0.26%
USDJPY at 142.24, down 0.42%
AUDUSD at 0.6901, up 0.20%
USDCAD at 1.2976, down 0.12%
Dollar Index at 107.96, down 0.34%
Ten-Year Govt Bond Yields:
U.S. at 3.323%, down 1.15%
Germany at 1.6670%, up 1.40%
France at 2.236%, up 0.97%
U.K. at 3.1070%, up 0.81%
Japan at 0.240%, down 2.24%
Commodities:
Crude Oil WTI Futures (Oct) at $88.58, up 0.91%
Brent Oil Futures (Nov) at $94.86, up 0.91%
Gold Futures (Dec) at $1,737.25, down 0.19%
Cryptocurrencies:
Bitcoin at $22,258.19, up 0.10%
Ethereum at $1,715.04, down 2.40%
BNB at $293.41, down 1.19%
XRP at $0.3549, down 0.61%
Cardano at $0.5023, down 2.24%
Source: Read Full Article