World Market Trends At 6 A.M. ET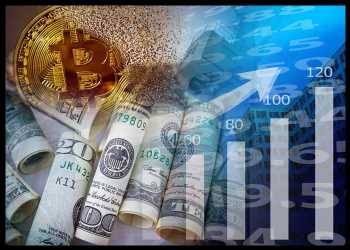 Here is a snapshot of the global markets across stocks, currencies, bonds, commodities and cryptocurrencies.
Market mayhem subsided as panic surrounding the Omicron variant was deemed overdone amidst reports that Moderna's vaccine booster dose offered some protection against the Omicron variant. Asian benchmarks closed with strong gains. European stocks too have rebounded comfortably. American stock futures are well into positive territory. The Dollar remained muted against major currencies. Ten-year bond yields hardened as risk-on behavior gradually returned to world markets. Oil benchmarks too staged a relief rally. Gold rallied mildly as the Dollar retreated. Cryptocurrencies surged ahead. Bitcoin and Ethereum are up around 5 percent.
Stock Indexes:
DJIA at 35,182.60, up 0.72%
S&P 500 at 4,602.20, up 0.75%
Germany's DAX at 15,363.17, up 0.81%
U.K.'s FTSE 100 at 7,254.70, up 0.79%
France's CAC 40 at 6,913.54, up 0.63%
Euro Stoxx 50 at 4,145.85, up 0.94%
Japan's Nikkei 225 at 28,517.59, up 2.08%
Australia's S&P ASX 200 at 7,355.00, up 0.86%
China's Shanghai Composite at 3,625.12, up 0.88%
Hong Kong's Hang Seng at 22,971.33, up 1.00%
Currencies:
EURUSD at 1.1294, up 0.17%
GBPUSD at 1.3254 up 0.36%
USDJPY at 113.69, up 0.10%
AUDUSD at 0.7134, up 0.35%
USDCAD at 1.2936, down 0.04%
Dollar Index at 96.36, down 0.19%
Ten-Year Govt Bond Yields:
U.S. at 1.441%, up 1.56%
Germany at -0.3390%, up 6.09%
France at 0.021%, up 327.78%
U.K. at 0.8145%, up 5.37%
Japan at 0.050%, up 2.04%
Commodities:
Crude Oil WTI Futures (January) at $69.43, up 1.20%
Brent Oil Futures (February) at $72.15, up 0.88%
Gold Futures (February) at $1,797.15, up 0.14%
Cryptocurrencies:
Bitcoin at $48,697.04 up 5.97%
Ethereum at $4,025.32, up 5.79%
Binance Coin at $531.39, up 3.28%
Solana at $179.79, up 4.35%
Cardano at $1.27, up 4.06%
Source: Read Full Article