Unknown Investor Buys a Billion Dollars Worth of Bitcoin
An unknown individual or entity bought 96,000 bitcoins, currently worth more than one billion dollars, during the recent crash which sent bitcoin's price to what now appears to be a bottom of around $5,000.
Andy Hoffman, a vocal bitcoin supporter who describes himself as a crypto consultant, publicly stated to his twitter followers:
"Bitcoin address 3Cbq7aT1tY8kMxWLbitaG7yT6bPbKChq64 purchased $344 million worth at an average of $8,400 from 2/09/18 through 02/12/18 – then, doubled down adding nearly 41,000 coins for a new total of 96,000 coins worth around $900,000,000 at today's price ($9,400)."
That's days after on February 4th Hoffman stated: "At $8,000, a measly $1.3 billion is all it takes to lock up 1% of all the existing Bitcoin – excluding the 3+ million permanently lost. That is, if you coud find a seller of 168,000 BTC."
A measly one billion. Who this mysterious buyer was remains unknown, but the first transaction was made on the 8th of September 2017 for 0.01BTC.
That appears to have been a test transaction because it is quickly withdrawn or sent to what appears to be the bitcoin address of an exchange or a broker.
Once the individual or entity became somewhat sure all is working fine after sending another two small amounts, they deposit 4,000 bitcoins on the 7th of November.
Sporadic deposits of around 1,000 bitcoins continue into December and January, picking up considerably in February when a number of deposits in the sum of 5,000 or 6,000 bitcoins are made.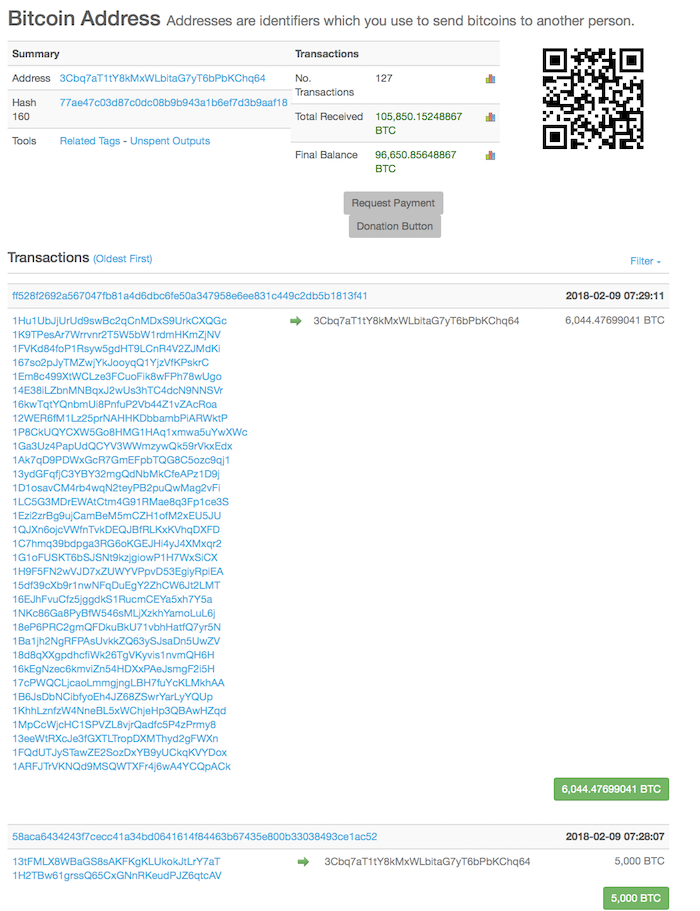 It remains unclear who owns this billion dollars bitcoin address, but some are speculating this is an exchange, which looks quite unlikely as the deposits and withdrawals are no where near as voluminous.
It could be a broker. There are two withdrawals spread over two days during December to a 1LA address which was also opened around September 2017 with a current remaining balance of some 400 BTC.
That might suggest they both are owned by the same individual or entity, and more far fetchingly it could be the amount was sold Off the Counter (OTC).
What exactly is the case we do not know, but many clearly bought during the price dive to the lows of $5,000 as bitcoin has now more than doubled since, rising to a current price of $11,000.
Source: Read Full Article