US Pharmacies to get Regulated on Ethereum
Death is a part of everyday life, and we hear many stories about people that have died due to crime, major highway accidents, or murder. What we don't often hear is the stories about people who die due to a prescription drug overdose.
BlockMedX, a blockchain based infrastructure designed to provide an easier and trustless communication between patients, pharmacists, and physicians, was born after the company research produced some staggering results that were reason enough for them to start building the platform.
The reason they are doing this is to prevent 60,000 human deaths that happen every year, due to drug abuse. This number increases every year and may reach a total of 500,000 for the next ten years. This new, up and coming company, is working to connect the physicians and pharmacists through their blockchain infrastructure and help them solve many of the current problems in the paper prescription system.
Prescription shopping, forgeries, as well as corrupt physicians or pharmacists are often found at the root of this systematic problem, and blockchain is the real tool for solving this issue.
How does it work?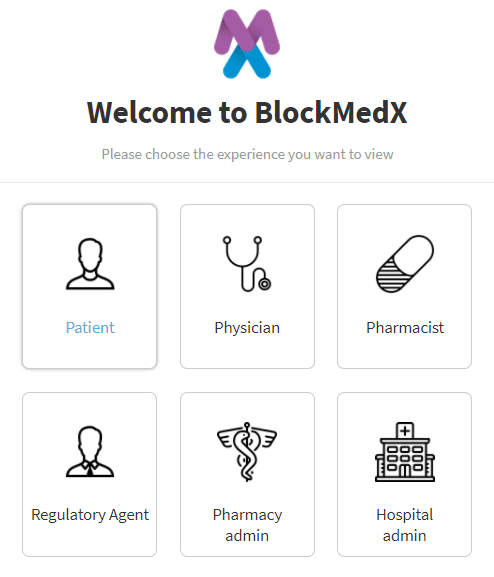 BlockMedX is a blockchain based solution created to combat the so-called "prescription drug epidemic" in the USA.
While still in the development phase, BlockMedX has a preview prototype that is available for viewing. For now, it is a virtual experience, but it captures the essence of how it will eventually work to solve issues for patients, pharmacies, and physicians, as well as improving the effectiveness for all of the organizing bodies linking these individuals.
The process is simple. The patient visits a physician and gets prescribed a medicine on the blockchain. This prescription contains many details of the patient and also their history. Upon taking the medicine from the pharmacy the token is automatically withdrawn into the pharmacy's digital wallet, and the prescription is considered expired.
The patients are biometrically signing their prescriptions upon receiving them, so they are non-transferable, immutable, and secure. The token ensures they can only be used once, and thus preventing drug overdose, i.e. human deaths.
The blockchain works across all United States and can become a trust-less network for pharmacies to combat drug abuse in the USA. The ICO is scheduled for Q3 of 2018 according to their roadmap.
Beyond the Roadmap
Opioid drugs are just the beginning. After launching successfully, BlockMedX wants to continue developing to include all critical drug types and create a working environment for them on their platform. This largely depends on how the company will handle this initial process, and how the market will adopt the technology.
As it stands, there are no other technology developers aiming to solve this problem. Personally, I love the idea, I love the business model, and I think this project will be an amazing blockchain implementation that will actually save human lives.
Addicts and abusers usually go unnoticed by the system and struggle with depression and anxiety. BlockMedX will upgrade the infrastructure and enable clear-cut communication between pharmacists and physicians, to discover and help these people, thus preventing thousands of deaths every year.
Want to learn more?
Watch the video above, where the BlockMedX team beautifully explain their project, their research, and their intentions, how their system works and protects all stakeholders in the prescription drug industry.
If this project got your interest, you should consider visiting the BlockMedX's website, where you can find all of the information available. Additionally, sign up for their e-mail newsletter so that you are given the best opportunity to invest in their ICO, when it becomes available to the public in Q3 2018.
Source: Read Full Article